Web Design / Photography
Paul's Motor Inn
Paul's Motor Inn has been a Victoria landmark for decades, built adjacent to the 50's-era Paul's Drive-in and the Copper Owl.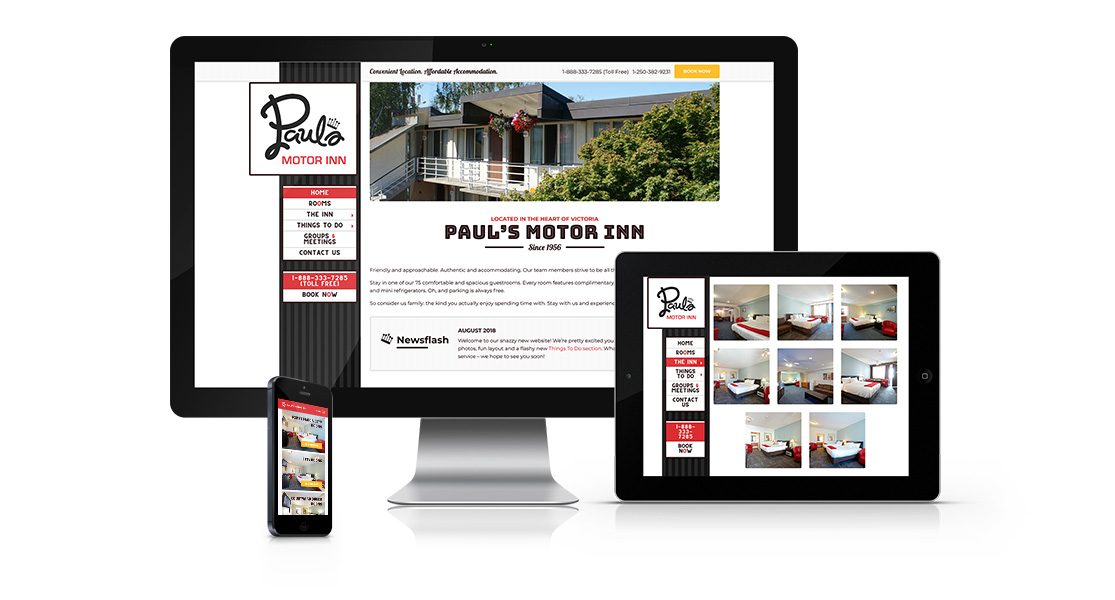 The Inn boasts outstanding hospitality and an impressive seventy-five guest rooms. But their unique personality and great service were not being represented well by their website, which was provided by a generic travel fare aggregator. They came to BONE Creative to move their website to a reliable, independent platform customized to their needs. Their new design needed to express their charm and personality, as well as capitalize on their convenient location.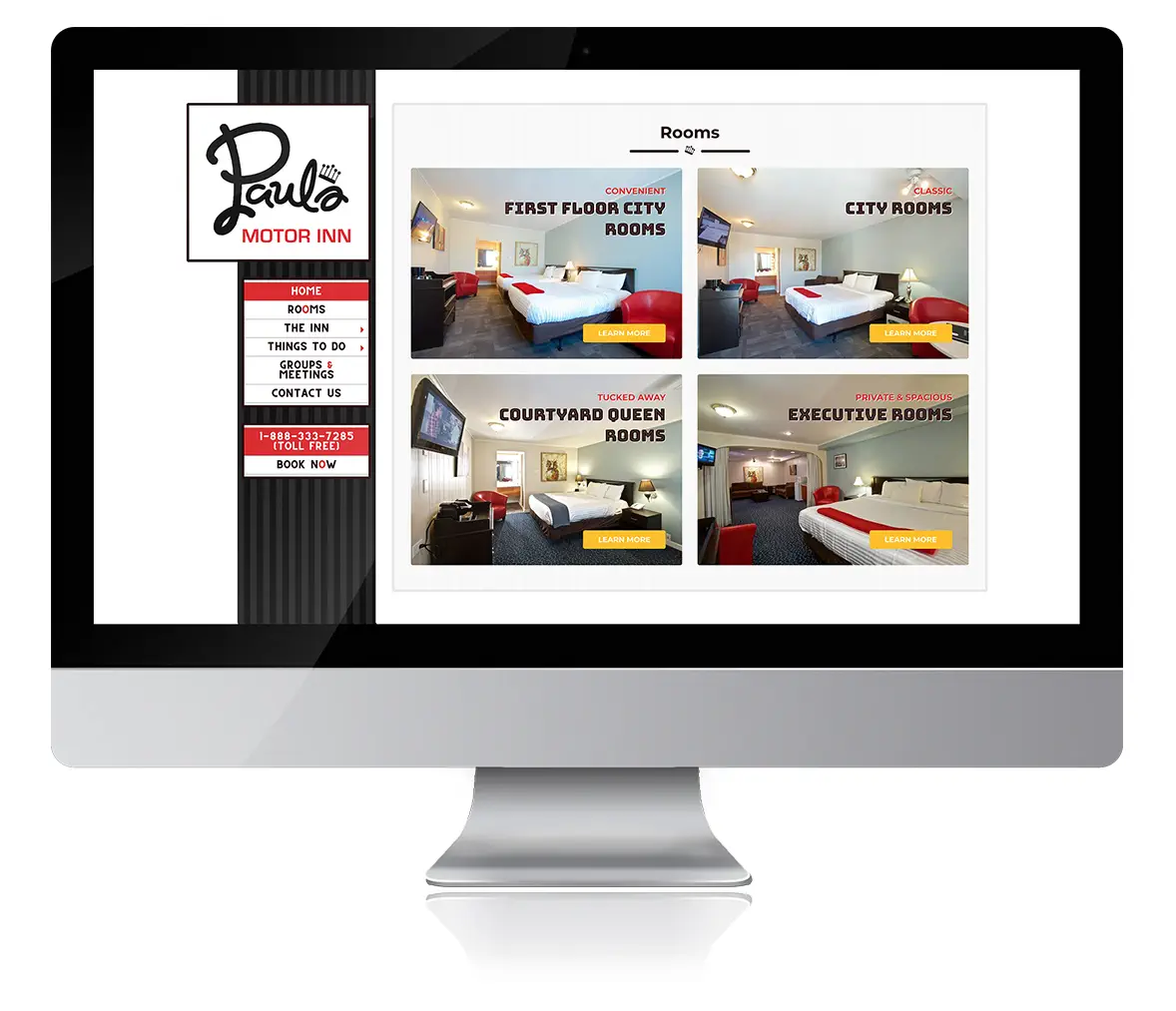 Unique Style for Paul's Motor Inn
Working closely with the team at Paul's, we developed a fresh, unique website design. It reflects the Inn's rich history by integrating a colourful, chunky retro aesthetic, and combines it with a clean, modern sensibility.
The team at Paul's wanted their website to evoke the look of the real-life Paul's Motor Inn sign, an unmistakable landmark for visitors travelling into town on the highway. Thus, the site was built around a stylish vertical menu, so visitors could instantly connect the look of the website with the Inn's physical location.
This structure helped drive our other design decisions. The prominence of the jazzy menu provided slightly less room for images, so we relied more on varied typography to convey the Inn's unique personality. We combined that typographic style with thick lines and frequent use of the Inn's iconic crown symbol, integrating retro flare and Paul's unmistakable style throughout the site.
All the sights of Downtown Victoria
Paul's Motor Inn is prominently positioned in downtown Victoria, within walking distance of nearly everything. So we set out to revamp the website's Things To Do section to show off this valuable feature. The new maps we developed illustrate the radius for 5-minute and 10-minute walks, communicating to newcomers that the many amenities of downtown Victoria are just minutes away. Clicking on any of the marked locations pulls up a photo and information, allowing visitors to quickly and easily get to know the area, or help plan their itinerary for the day.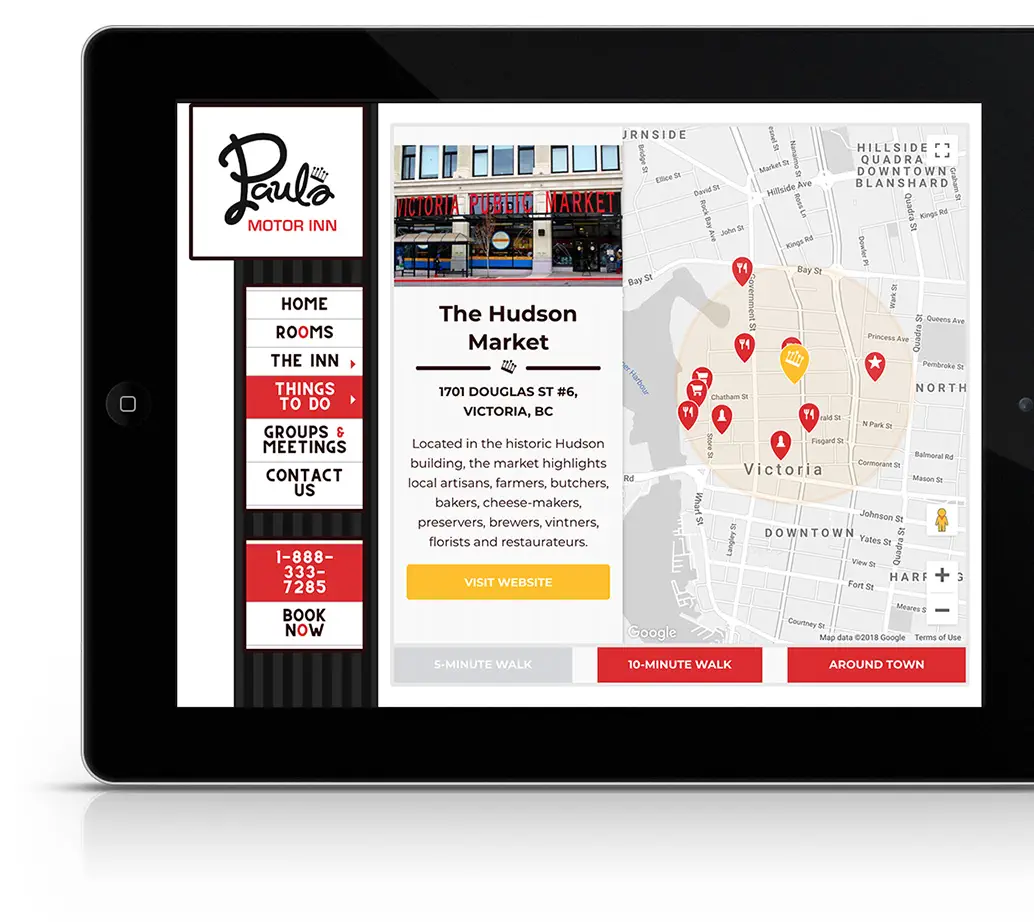 I'm ready for my close-up Mr. DeMille
Along with the new website design, the Inn asked us to photograph their rooms and meeting spaces. Once again we collaborated closely with their team, capturing each location with careful attention to detail, ensuring consistent lighting and ambiance between rooms. This professional approach resulted in reliably bright, airy photos of the Inn's spacious rooms.
Conclusion
In the end, we delivered an independent and stable website that reflects the Inn's unique character and history. It also uses striking design and convenient mapping features to capitalizes on the Inn's best attributes. Check out one of Victoria's historic landmarks for yourself: